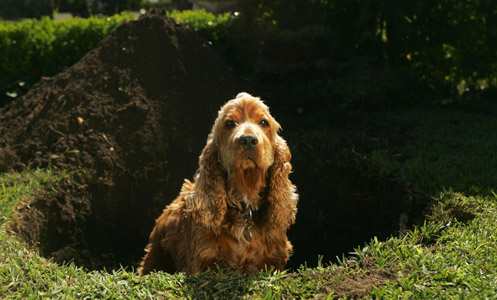 A Dog's Plea for Help: Destructive Dogs
Does your dog destroy your home when left alone?
Does he dig in the backyard, dine on your shoes and furniture, chew his way through walls, doors, floors and fences? Is his barking driving you and your neighbors crazy? Does he frequently make a break for it and escape the back yard? If you answered, "Yes!" to any of these questions, your dog is speaking loud and clear. What is he saying?
I am bored out of my mind!
Please, I need much more exercise!
I miss you and I'm afraid of being alone!
Our dog trainers, located in Raleigh, Cary and Durham, will show you easy ways to exercise your dog so that your pet (and not you) are tired. You will learn how to stimulate his mind through play and obedience games and how to teach him to cope when he is alone.
Dogs need mental stimulation and regular exercise to curb destructive behaviors.