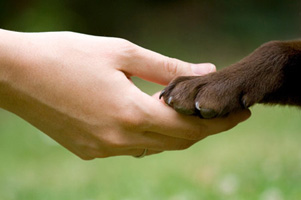 Building Trust to Overcome Fears
Trust is earned in the dog world.
When a dog becomes a member of a pack, he depends on the other pack members for his safety. Dogs have a surprising capacity to forgive; ask anyone who lives with a formerly abused or neglected pet. Yet many of these dogs have fear-based issues which can turn into aggression. Even the smallest fear can transfer by association to other situations or objects and spiral out of control. For example:
Misty, a beagle, fears the sound of the REMOTE CONTROL clicking on and off and runs out of the room when she hears it.
Soon, she will not enter the ROOM when the TV is on.
Misty escalates and won't come DOWNSTAIRS when the TV is on.
Eventually, Misty fears and acts aggressively to OTHER NOISES WHICH FLUCTUATE IN PITCH AND VOLUME.
Our dog trainers can help you identify fearful behaviors and provide mechanisms for relief. Calming a fear before it escalates is critical for your dog's emotional well-being and curbing fearful aggression.
Virtually all aggressive behavior stems from fear. Keep this in mind before assuming a dog is "bad" if they exhibit aggressive behaviors.